In Supply Chain Reports view, user is able to generate general and analysis reports of sales and supply forecast. The user can print the list of the supply chain reports based on there selected Criteria. The following are the available reports:-
Report Description

Explanations

Sales Forecast
Demand Group Summary
Shows the sales forecast summary of the demand group for all given forecasting group during the selected period.
Forecasting Group Summary Report
Shows the sales forecast summary of the Inventory Group for all or given demand group and during the selected period.
Sales Forecast details per product
Shows sales forecast details per product
Sales Forecast Group bias Report
Shows the Sales Forecast Group which are favoured
Product Sales Forecast bias per product
Shows the sales forecast bias report
Excess & Obsolete Stock Report Report
Shows Excess & Obsolete stock based on the next 12 months of Sales Forecast
Days of Forward Coverage (DFC)
Shows the inventory days of coverage based on sales forecast per product.
Actual and Forecast Sales Report
Show the actual and forecasted consolidated data
Inventory Consumption Report
Show Inventory Balances for the next 12 months based on Sales Forecast
Supply Forecast
Supply Forecast Summary Report
Shows the supply of all Vendors for all or given forecasted group
Supply Forecast Details Report
Shows the supply details per product.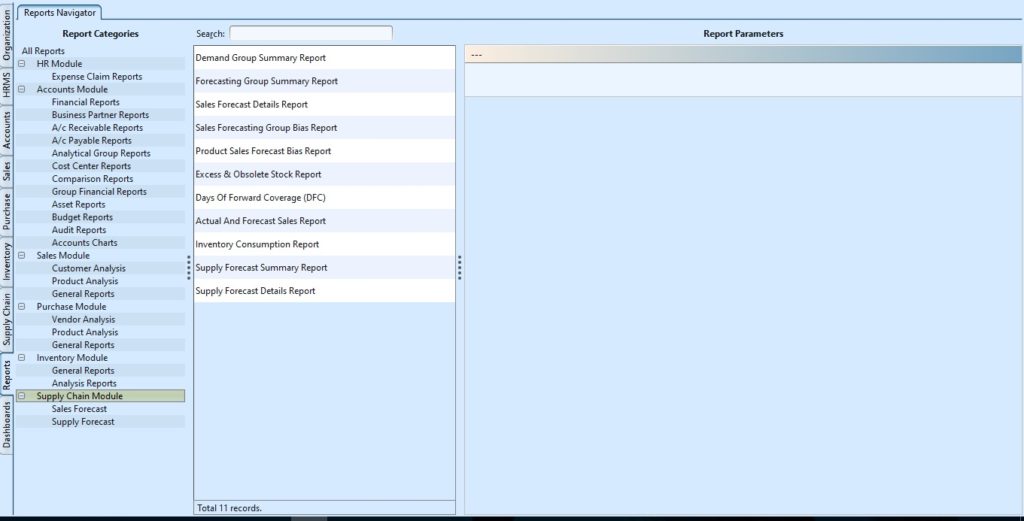 View and Search Reports for Supply Chain Module
1. Enter search parameter to filter the result, i.e. type in the report name in the search textfield box at the top of the screen

2. Select a report from the list of reports available
3. Select the parameters to filter the report, i.e. by specific "Product Brand", time period
4. Click

 button next to drop-down list to select multiple items (i.e. certain product brands). On the pop-up window, tick the box(es) of items to be included in the report, then click "OK" button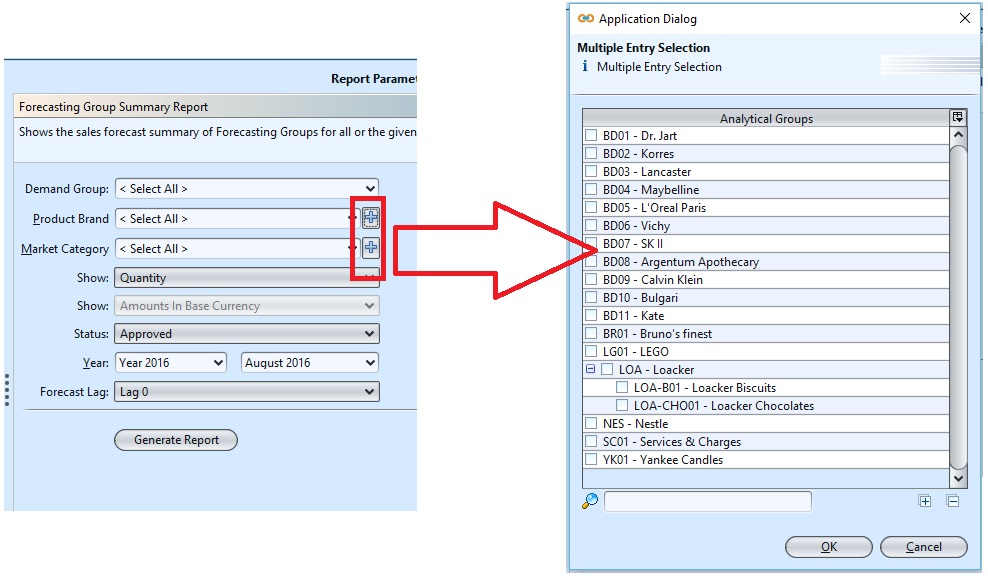 5. Click "Generate Report" button at the bottom right of the screen to generate the report; it will open a new tab with the selected report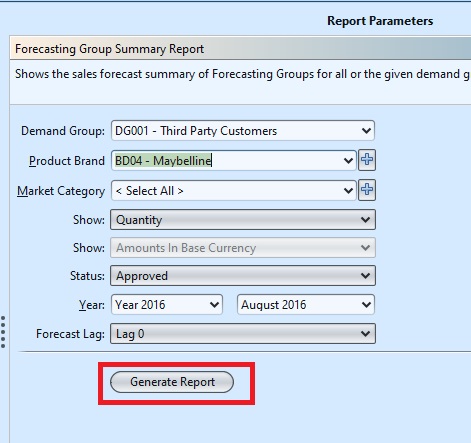 Example of the report: